Days Past - Buying & Selling Old Picture Postcards
We started trading (& collecting) in old picture postcards in 1978. Standing at some memorable but long since gone fairs mostly in the North of England, Leeds Astoria, Sheffield Mysers Grove, the RF fair at Altrincham Cresta Court and Shelron events in Birmingham and the original monthly London Bloomsbury fair at the Bloomsbury Crest Hotel. We were accepted for membership of the Postcard Traders Association and have been members of the PTA since 1983. Subsequently becoming regular exhibitors at BIPEX (Kensington).
Owner Mike Day joined the PTA committee in 1993 where his photographic expertise was used to good effect for the Postcard Centenary Exhibition in 1994. With the birth of the internet the PTA was one of the first organisations to have an internet presence, Mike as PTA webmaster launched the first postcard.co.uk website in 1996 and has been webmaster and developer for the PTA (and many other postcard based websites) ever since.
Mike has recently (2019) rejoined the PTA committee having resigned in 2014 after 20 years in the role.
Members of the Postcard Traders Association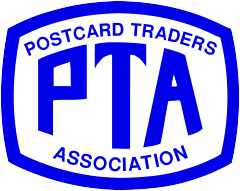 Postal enquiries
Days Past
4 The Woodlands
Welsh Road
Childer Thornton
Cheshire
CH66 5PG
Telephone
0151 339 5422
email
dayspast@sunnyfield.co.uk