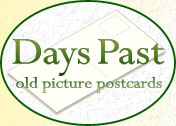 dayspast@sunnyfield.co.uk



'Sunnyfield'
4 The Woodlands
Welsh Road
Childer Thornton
Ellesmere Port
Cheshire
CH66 5PG
United Kingdom



0151 339 5422
We are members of:



Postcard Traders Association
Postcard Information Pages


Contact Us

Have we got what you're looking for?
These pages contain only a fraction of our diverse stock - if you don't see what you collect here please tell us. We may be able to help either by putting cards on the website or by selling to you directly
If we don't have your requirements in stock we'll contact you if we find anything at a later date.
Email :dayspast@sunnyfield.co.uk

Do you have postcards for sale?
We are always interested in buying interesting cards either individually or as part of genuine collections. We prefer cards from pre - 1940 but later dates may interest us also. Further details here on our Postcards Wanted page
Email :buying@dayspast.co.uk

Our full postal address is:
Days Past, Sunnyfield, 4 The Woodlands, Welsh Road, Childer Thornton, Ellesmere Port, Cheshire. CH66 5PG. UK.

Telephone :
from UK : 0151 339 5422
overseas : +44 151 339 5422